Although I am working with VDX.TV, I do a lot of pet projects in my spare time. It can include anything. In these works, I gain a lot of experience. Links to such recent experiences are given below.
VDX.TV
20-Jun-2022 – 24-Jun-2022
---
I am employed in VDX.TV for a year now and this is my first visit to the office. It is situated pretty in pretty remote area compared to Delhi. It is at sector 142. Luckily there is a metro sation just in front of the office building. Although it is not normal metro like delhi (i.e. delhi metro card wont work here), it well connected with the delhi metro.
The Guest House
We (VDX.TV) have a guest house aproximately 4KM from the office. It is 4BHK apart in a apartment complex called ATS Green Village.


Delhi Metro
India Gate
The India Gate is pretty far from my office. However it is connected via metro, so it is breeze. I went to there without knowing anything about the place. Just saw in the map that I have to get down from metro blue line at Mandie House station. After that I can walk. I was interested in the India Gate inself. However, I end up at the India Gate complex. There was a fantastic view of India Gate, but I could not go any where near the India Gate.
To my suprise, the tour take me to Amar Jawan complex where flag celebration was happening at that time. Checkout the following video.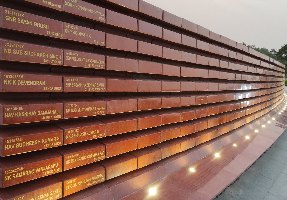 Lotus Temple
The Lotus Temple is Bahá'í House of Worship. It is a interesting achitecture. The inner area is very cozy, slient and peaceful.